Coronavirus Update - March 18th
On behalf of all of us here at Sunshine Tours, we want to thank you for your continued dedication to our business. Showing you America has been our passion for 38 years and we hope to continue for many more years in the future. Please read this entire message for important information regarding our business.
Due to the Corona Virus Pandemic, we have found ourselves having to make some difficult decisions regarding our business. On March 23rd, Virginia's Governor Northam ordered all non-essential businesses to close for 30 days and stay home in order to stop the spread of the virus. Since we fall in this category of a Non-essential business, we have no choice but to close for the next 30 days.
As of this time, we have suspended all travel through the end of April. If you were signed up for a tour during this time, please note you will receive your refund as soon as possible, however refunds will be delayed due to these new developments. Since this pandemic has hit our country, it has taken a major toll on our business. As of this time, the majority of our staff has been laid off and all of our buses are parked. We have an abundance of refunds to process and no income to support those at this time due to the panic around the country and people not willing to sign up for tours even if it is later in the year. We are asking all of our passengers to please be patient with us, we are doing the best we can in this situation. Never did we think anything like this would happen, however we are dealing with this ever-changing problem one day at a time.
We are constantly checking our voicemail system from home and will return phone calls as we can. But remember, please be patient as return phone calls will be delayed. For a faster response you can send an email to one of the following email addresses depending on your question:
If you have a question about your refund, your upcoming tour or a general question regarding our business at this time please email kendra@gosunshinetours.com
If you have a question about a charter that you have scheduled, please email pauln@gosunshinetours.com
If you have a question regarding accounts payable, please email linda@gosunshinetours.com
Remember, we are blessed that so many people are working together to overcome this pandemic. We will continue to monitor this situation and update passengers that are scheduled on upcoming tours as information becomes available. Remember, stay safe and stay well – We look forward to welcoming you on the bus again soon!
Sunshine Tours, Inc.
FEATURED
TOURS
Every tour is escorted on modern touring motor coaches, giving our passengers the most comfortable ride. In addition to being climate controlled and restroom equipped, each state of the art motor coach has VCR's and DVD's. Sit back and enjoy the ride!
Sign Up For Our Email Newsletter
Chat with Us
To chat with us, just click the chat icon in the bottom right of your screen!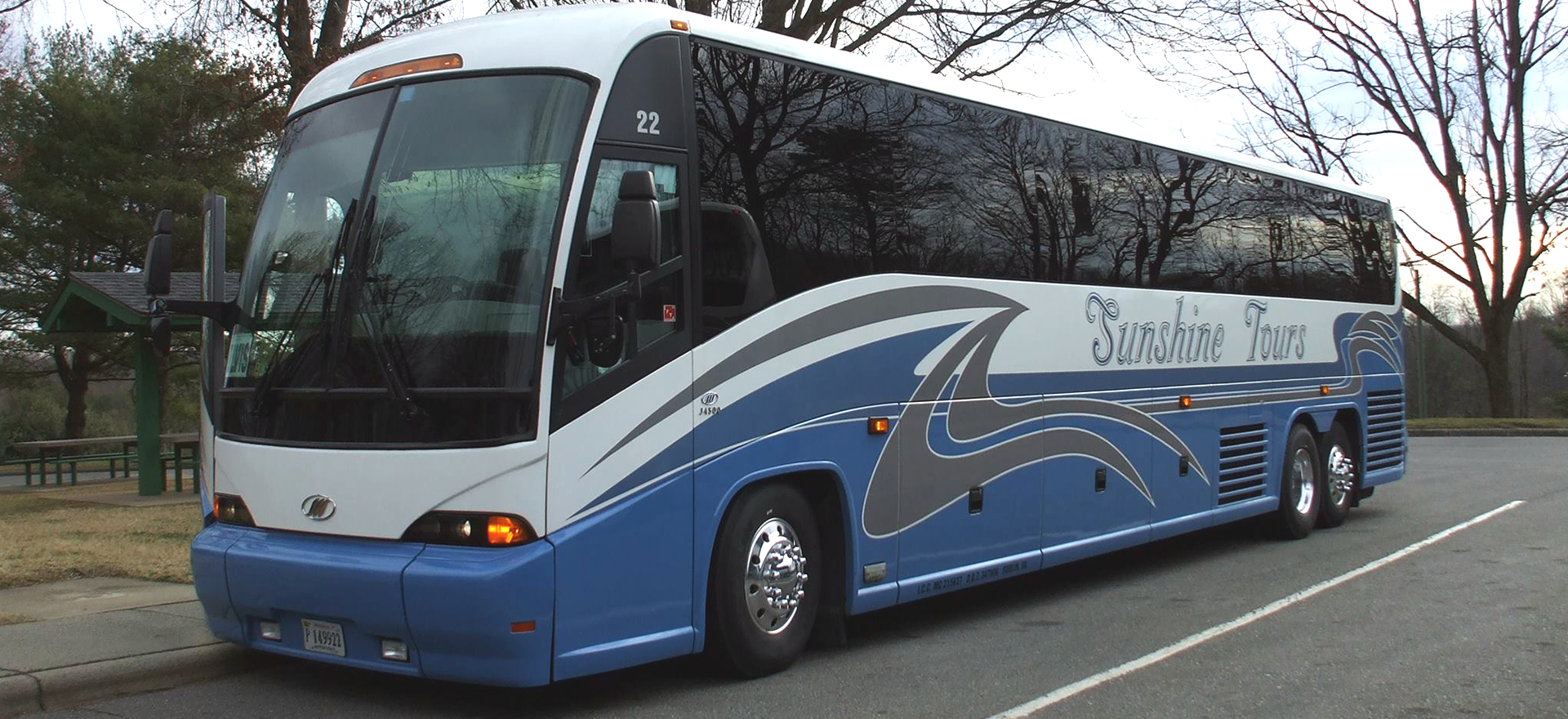 Video Reviews (Coming Soon)